Bible Study
The Rev. Karen Lewis offers Bible Study on group selected Sunday evenings at 6:30 in the Van Atta room. All are welcome. We pick a book of the Bible that we would like to learn more about. We read the book at home, and then we come together to explore and discuss the historical context, literary form, theology, and what it means to us today. Check the weekly bulletin or the church calendar for the most up-to-date information.
Wednesday Series
Periodically, on Wednesdays, we meet for a catered dinner and then have a lesson on different aspects of our faith. For example, in 2014 we experienced three-week sessions on "How to Pray" and "Desert Fathers and Mothers."
Our first adult formation series for fall 2015 on Sacramental Equality was a great success. The Reverend Lewis lead us in conversation about our sacraments with a particular focus on relationships – what does Scripture, the Anglican tradition and our own experiences tell us about the sacredness of being in relationship; how does this impact our understanding of marriage. The conversation will continue…
Prayer Group
The Prayer Group Ministry is an hour of meditation and prayer for St. Paul's, for our lives, for those whose lives we touch, and for the whole world. There is also inspirational and educational discussion of prayer-related books or articles.
The Prayer Group Ministry meets on the first Tuesday of the month from 5:30 to 6:30 PM from September through May in the choir room.
Contact Office at St. Paul's (517-482-9454) for additional information.
Men's Breakfast
The Men's Breakfast Group is a fellowship of men who meet on the third Thursday of the month (September-May) to have breakfast together and the share a religious/spiritual program. The breakfasts and programs last from 7 to 8 AM with a cost of $6.00 to cover the catered breakfast. Because the men attend as their schedules permit, breakfast reservations are necessary. The 2015-2016 study is The Bible Makes Sense by Walter Brueggemann available at your favorite book seller. Sign up is in the Merrifield room or contact the church office. Questions? Contact Office at St. Paul's (517-482-9454) for additional information.
Lent Madness
Go to Lentmadness.org to learn more.
2016 Guardians of the Golden Halo:
Barb Lindquist and Candy Womble
2016 Guardians of the Golden Halo: Sue LeDuc, Sue Millar, and Candy Womble (honorable mention to Amy Wortley)
2015 Guardian of the Golden Halo: Sue LeDuc
2014 Guardian of the Golden Halo: Laura LeDuc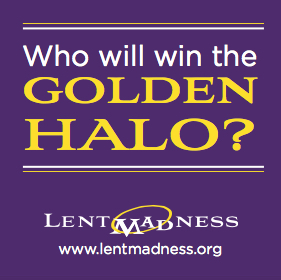 Want to learn more? Learn all about it here!
Enthusiasm is a word we don't use too often in church let alone during Lent. But perhaps we should. Do you see the "T-H-U-S" in the middle of the word? If you follow these letters all the way back in time to ancient Greece, they would have looked like this "θεος" or in our alphabet, "theos." It means "God." We get the word "theology" from this same word.
Our original word: enthusiasm usually means that we are excited or passionate about something. But if you look at that little Greek root and add the little Greek prefix "en-" meaning "in", you get a bit different definition. Etymologically, "enthusiasm" means "in God." Therefore, when we talk about our passions and excitements, what we are really saying is "these are the ways that I most clearly notice that I am in God."
This Lent, as a congregation, let's get en–thusiastic about supporting our youth (VBS, Episcopal Youth Events, or camp scholarships, to name a few) by participating in Lent Madness. Use the discipline of Lent to learn something new, participate daily and have some fun! Simply fill out a Lent Madness Bracket (if you like, attach a donation to St. Paul's youth) and submit it to the church office or place in the offering plate before February 10th to participate. A copy of the Saintly Scorecard (includes biographies of the thirty-two saints in this year's bracket) is available.
Levels of Participation
Level 1 – Quickly fill out the Bracket, and turn it in
Level 2 – Fill out the bracket, using your prior knowledge, turn your Bracket in, and go to lentmadness.org to vote online
Level 3 – Research saints (using Saintly Scorecard), fill out the Bracket (make a copy to keep), turn in your Bracket, and go to lentmadness.org to vote online each weekday for the saint of your choice starting February 11th
This is an opportunity for the St. Paul's community to participate in saintly conversation during Lent. Show your ENTHUSIASM by participating at any level – Just Do It!
Watch the Big Bracket on the bulletin board outside the Merrifield room as the saints move forward each week. One point will be awarded for each correct pick. The person with the most points will win the distinction of being St. Paul's 2016 Lent Madness winner and Guardian of the Golden Halo until the 2017 contest!
Currently Sue LeDuc is the 2015 Guardian of the Golden Halo. Jim Milne and Bobbi Tisdale who tied for second place in 2015 are anxious to claim the halo this year! Do your part to spread the glory around.
About Lent Madness
This unique Lenten devotion combines love of sports with the lives of saints.
"The format is straightforward: thirty-two saints are placed in a tournament-style single elimination bracket. Each pairing remains open for twenty-four hours, and people vote for their favorite saint. Sixteen saints make it to the Saintly Sixteen; eight advance to the Elate Eight; four make it to the Faithful Four; two to the Championship; the winner is awarded to the coveted Golden Halo. The first round consists of basic biographical information about each of the thirty-two saints, then things get more interesting in the subsequent rounds as we offer quotes and quirks, explore legends, and even move into the area of saintly kitsch.
Yes, Lent is a sacred time of preparation, penitence, self-reflection, and renewal, but there's no reason a Lenten discipline needs to be dreary as we 'prepare with joy for the Pascal feast.' Taking our faith yet not ourselves too seriously is the essence of Lent Madness, and as it continues to grow and evolve, what won't change is the opportunity to meet some amazing people who have come before us in the faith. What we learn from the saints is they, like us, are flawed human beings through whose lives Christ's love shone brightly. If this love can shine brightly in their lives, perhaps we too can be beacons of the Good News." *
*from Saintly Scorecard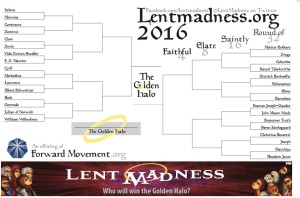 (Click on Bracket to print)
Go to Lentmadness.org to learn more.