St. Paul's Episcopal Church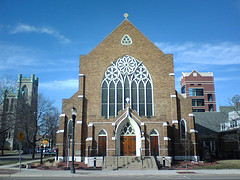 218 W. Ottawa
Lansing, MI  48933    Map
Main Office: 517.482.9454
Fax: 517.485.8621
Clergy: 
The Rev. Karen C. Lewis
Rector
rector@stpaulslansing.org
The Rev. Dr. Susan Carter, Associate Priest
associate@stpaulslansing.org 
Staff: 
Parish Administrator: Theresa Milne – office@stpaulslansing.org
Youth & Family Missioner: Jackie Womble – youth@stpaulslansing.org
Webmaster: Andrej Walilko – walilkoa@gmail.org
St. Paul's News (SPN):
Please submit articles to the editor (articles@stpaulslansing.org) by the 15th of each month.
Bulletin Submissions:
Please submit information by noon Tuesday in writing or e-mail to office@stpaulslansing.org to ensure accuracy.
Building Information
St. Paul's is located directly across the street north of the Michigan State Capitol downtown Lansing. The facility is large, attractive, and suitable for hosting religious and other meetings or events. On site catering is also available from A Catered Affaire (517-372-7370).
Accessibility and Parking
On-street accessible parking is available on Ottawa and Seymour streets. On Ottawa, the church is accessible by ramps through the memorial garden. On Seymour, follow the sidewalk to the back drive to the church. In addition, a state-parking ramp (off Seymour Street) is available on weekends and after 5 pm on weekdays.