Nursery
At St. Paul's we believe in providing a loving, enriching environment for all ages. For our youngest members, 6 weeks to 3 years, a gentle, and quality nursery experience is available on Sundays during the 10:00 am service.
Our nursery attendant provides a rich, caring environment in which to welcome our youngest members.
Youth Christian Formation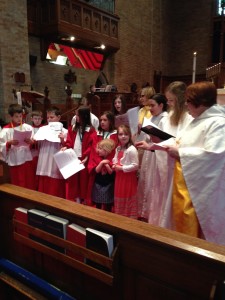 Children's Sabbath
St. Paul's Youth Christian Education Program is focused on providing our children with the tools and experiences to support and encourage them as they travel on their faith journey. Christian formation is an important piece of the life of St. Paul's. Our Youth Christian Education Program reflects our objective to have our youth begin an ever-deepening relationship with God, through reading and understanding Scripture, connecting, not just with the St. Paul's community but the broader community and to know the history and traditions of the Episcopal Church.
The Youth Christian Education classes, for preschoolers through 12th grade, run from September through May. We begin at 9:45 AM on Sundays. We use a lectionary-based curriculum, Feasting on the Word, provoking discussions with their peers and at home. High School youth attend Sunday worship on the 1 st and 3 rd Sundays and have class on the 2nd and 4th Sundays. Our youth group programming offers our junior and senior high youth a way to express their faith through action.
Vacation Bible School 2016
In June each year we offer a no cost vacation bible school program for children in the community ages 3 years through 5th grade. The children sing, dance, learn and experience being part of a loving, faith filled community. Vacation bible school is a part of the Outreach ministries here at St. Paul's and involves a large portion of the parishioners, from financial gifts to teaching a class during the week.
Youth Formation Activities
St. Paul's High School Youth Group, for 8th through 12th graders, gathers on the 2nd and 4th Sundays at 9:45 am. The focus is to build community through our curriculum, outreach, the participation in Diocesan activities and just plain fun.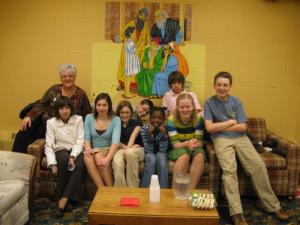 Youth Library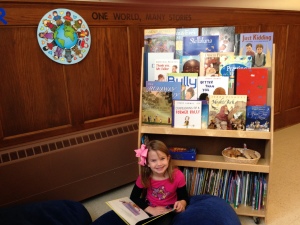 Where is God in this story? This is a powerful question for God's children of all ages. Can the literature of childhood help us communicate the Christian faith? Absolutely! Children's literature is one vehicle that transmits our understanding and insights from one generation to the next. Religion is the story of our spiritual quest. It is a journey. We need to illustrate the meaning with new stories about the human condition, about the way life is lived, can be lived, and should be lived.
The literature of childhood can be an effective common language because it contains stories we can all listen to and learn from together. It is full of incidents and characters that we can respond to with varying degrees of understanding as we study and worship as one body.
Talking about faith in our everyday lives may seem hard at times. Children's books can provide a natural springboard for faith talk. The books in the Reading Corner in the Merrifield room are not "religious" books; they are not about faith. Rather, they are wonderful stories that will provide many opportunities for conversations about what it means to be a faithful person in God's Kingdom. The books contain suggestions for Faith Talk.
Good books for children are a rich and untapped resource for proclaiming and interpreting Christian faith for ALL ages. The books in the St. Paul's Reading Corner belong to anyone concerned with Christian communications. Both old and young can be enriched by these stories. Books can be a bridge to a faith- expanding experience.
Read simply because literature is one of God's good gifts.